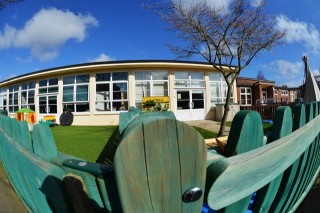 Sprowston Infant School is a community infant school for children from 4 – 7 years of age and is situated on the outskirts of the City of Norwich.
We have approx. 190 children on roll which will be divided over seven classes:
Two Reception classes, two Year 1 classes and two Year 2 classes.
We also have a Specialist Resource Base (SRB) which caters for up to 10 infants with Autistic Spectrum Disorder.
The school was built in 1950 and shares the site with Sprowston Junior School. The School is constantly updated and well maintained. In the last two years we have redesigned and refurbished the Reception inside and outside areas and have developed a brand new library. Classrooms are large and self-contained. Our facilities include:
A large school hall well equipped for PE and Music
An enclosed garden used primarily by the reception classes for play space and for study
A smaller enclosed garden used for study and outdoor class room activities
Interactive whiteboards in all classes
Ipads and laptops for use by pupils
A well-stocked Library
A specialist resource base (SRB) for autistic children
Easy and regular access to the recreation ground for sports and activities
A playground for outdoor PE and break times
Outdoor play equipment like basketball hoops, hula hoops, skittles and scooters available at lunch time breaks
Surestart Children's Centre onsite
Sprowston Pavillion playgroup on site.
Some of the things we are proud of are:
Ofsted report July 2015 rating as "good"
Strong links with the local playgroups
Strong links with Sprowston Junior School sited on the same grounds
Practice in Reception rated as 'outstanding'.
Strong support from our parents and community.